News Updates:
1. For those of you who were greeted with the mess that was my blog last night, I apologize. I got a little theme-happy. I've finally found a theme I like that allows me to have the things that I want, so no more big changes!…for now.
2. Guide to self-hosting is coming tomorrow!
—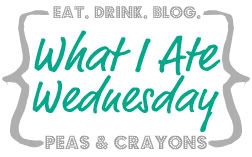 Thanks to 
Jenn at Peas and Crayons
 for hosting!
As I was commenting on others' WIAW posts today, I realize that one of primary things I commented on were gummy vitamins. Like, if a post had any mention of gummy vitamins in it, I would make that my entire comment. I think this is me trying to tell me something, but I don't know what that something is. Anyway, after that incredibly interesting tangent…
(Some of) my eats for the week!
Breakfasts
Scrambled eggs with spinach, cheese, and peach mango salsa with kiwi
Daddy Dearest's finest apple pancake with scrambled eggs and peach mango salsa (are you detecting a theme here? :P)
Hot apple cinnamon oatmeal (with egg whites, of course)
Quinoa-meal (basically oatmeal with quinoa–1/4 cup quinoa + 1 cup almond milk + 2 egg whites) topped with coconut peanut butter
Lunches
Quorn turk'y burger sandwich with avocado and cheese on a whole-wheat English muffin, and carrots and spicy red pepper hummus
Memorial Day lunch: burger with shredded cheese (I finished all the normal cheese…) on whole-wheat bread, sweet potato fries seasoned with cinnamon, nutmeg, and brown sugar, and steamed broccoli
Tofu marinated with soy sauce, rice vinegar, cayenne pepper, and garlic powder, toast topped with Nutella, and baby carrots with spicy red pepper hummus
Dinners
Giant baked potato with cheese, bacon, and green onions, tomato and egg scramble, and sauteed green beans
Dad's ribs with orange garlic sauce (aka heaven), steamed zucchini and sauteed onions
Annie's White Cheddar pasta shells, green peppers sauteed with chili peppers, sauteed green beans with garlic
Snacks & Desserts
Fruit. Always lots and lots of fruit. Blueberries, pears&peanut butter, watermelon
Siggi's!
Chocolate chia seed pudding
Marbled berry cheesecake with some kind of really good frosting on top
Don't forget to check out my giveaway for Siggi's coupons! Their yogurt is creamy and healthy and yummy. What more could you want in life?